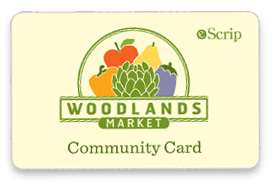 Use the card every time you shop to earn for your school or nonprofit organization!
Make a Difference!
Stop in at Woodlands Market and ask for a Community Card.
Once you sign up, your purchases create automatic contributions that go to your favorite school or nonprofit.
Earn up to 5% of your purchase amount when you show your card at check out.
Access your personal reports at escrip.com
to see how much you have earned for your group.
Since it's founding in 1986, Woodlands Market has contributed hundreds of thousands of dollars in cash and in-kind donations to help engage, support, and improve the communities where its customers and employees work and live.
Through the years, Woodlands has invested in many programs that support the founding family's philanthropic traditions and passion for education. Woodlands Market Community Card takes this commitment even further: Stop in at Woodlands, pick up a card, and sign up with eScrip to earn for your favorite school or nonprofit every time you shop!