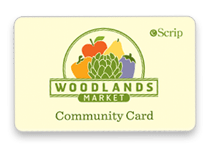 Use the card everytime you shop and earn up to 5% of your qualifying monthly purchases.
Program Details
EARN FOR YOUR SCHOOL OR NONPROFIT
Up to 5% on all purchases based on the following:
Spend $0 - $99.00, earn 2%
Spend $100 - $299, earn 3%
Spend over $300.00, earn 5%
If your monthly purchases totaled $550, your contribution earned would be $20.50:
($100 * 2%) + ($200 * 3%) + ($250 * 5%) = $20.50
PROGRAM
Visit Woodlands Market stores in Kentfield or Tiburon to get your new Community Card. Monthly qualifying purchases do not include sales tax, purchases of gift cards, postage stamps, phone cards, and bottle deposits. These exclusions are subject to change.
CARDS ACCEPTED:
Present your registered Woodlands Market Community Card (available at stores) when making your purchase using the payment method of your choice.
Use of your registered Woodlands Market Community Card is required at checkout to automatically track your purchases and contributions to your organization.