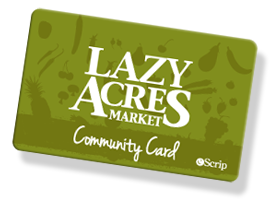 Use the card every time you shop to earn for your school or nonprofit organization!
Make a Difference!
First, stop in at your Lazy Acres Market and ask for a Community Card.
Once you sign up, your purchases create automatic contributions that go to your favorite school or nonprofit.
Earn 4% of your monthly purchase amount when you show your card at check out.
Access your personal reports anytime at escrip.com to see how much you have earned for your group.
Lazy Acres Market
2080 Bellflower Blvd.
Long Beach, CA 90815
Lazy Acres Market
302 Meigs Rd.
Santa Barbara, CA 93109