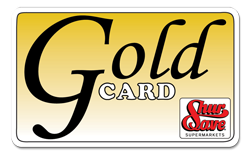 Gerrity's is proud to support you and the communities we serve. We are happy to offer the eScrip Program in order to help you achieve your fundraising goals.
Your members can pick up their personal Gold Card at Gerrity's Supermarkets. Once the card is registered, every time they present the card at ShurSave Supermarkets, we will contribute up to 5% of purchase amounts up to $999 spent monthly.

Attention Gerrity's Supporters.
To continue to earn contributions for your group, you must renew!

Gerrity's is asking that you renew* your participation in the Gerrity's eScrip program. For uninterrupted contributions, click on Yes! Renew! before November 1, 2016. After November 1, you can still renew to begin earning again.
Attention Fundraising Coordinators
Here is the information and tools you need to run a successful Gerrity's eScrip program!
Gerrity's Supporters Must Renew!
Effective August 1, 2016, Gerrity's requires families to renew their Gerrity's eScrip participation if they came to the program prior to August 1, 2014. To continue earning contributions, simply click the "Yes, Renew" on this page.
It's Easy to Renew.
Make sure that eScrip fundraising is uninterrupted! Supporters must renew between August 1 and November 1, 2016. Click on the "Yes, Renew" on this page or in an eScrip email. It just takes a few seconds, and it can mean hundreds of dollars for your organization.
Renew or Miss Out.
Get this renewal & sign-up flyer - everyone now participating needs to renew (or sign up if they aren't yet participating). Don't let your organization miss out on Gerrity's contributions!

"Oops! I forgot!"
It's okay! After Nov. 1, 2016, anyone can still renew; earnings will simply start again from the date they renew after the deadline. But, for uninterrupted earnings, encourage all your families to renew between Aug. 1 and Nov 1, 2016 so you don't loose contributions!
Get More Supporters.
Coordinators - Sign up new supporters and tell them that eScrip is free and easy, Existing supporters - get your friends and family to participate! Just sign up, shop at any Gerrity's location, and start earning for your organization automatically.
The ShurSave Gold Card can be used to earn at these Gerrity's locations:
Hanover Mall, 2280 San Souci Pkwy, Hanover Township, PA 18702
Luzerne Shopping Center, 552 Union St, Luzerne, PA 18709
4015 Birney Ave, Moosic, PA 18505
1720 N Keyser Ave, Scranton, PA 18508
River St & Meadow Ave, Scranton, PA 18504
702 S Main Ave, Scranton, PA 18504
801 Wyoming Ave, West Pittston, PA 18643
2020 Wyoming Ave, Wyoming, PA 18644